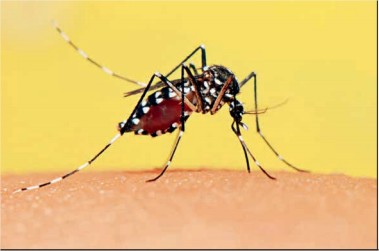 The PREPARE Arbovirus workshop 29 - 31 March 2017 is now open for registration.
The aim of the workshop is to improve the participants knowledge of identification and management of arbovirus infections and outbreaks at local and European level, with the aim to strengthen preparedness to (re-) emerging arbovirus infections across Europe. Course topics will include a review of arboviruses of clinical importance to Europe, including, symptomatology and differential diagnostics. Moreover, an overview of European organisations involved in surveillance, control and outbreak response. The course will be delivered by European experts through a dynamic mix of lectures and interactive session including a European outbreak response exercise.There is an opportunity to apply for grants which covers all costs except travel.
For more information, to register and apply for grants: https://escmid.pulselinks.com/event/13434
Generating Evidence for Infectious Diseases with Epidemic Potential
A meeting to discuss epidemic infectious diseases with epidemic potential was held at the Wellcome Trust in London, UK on the 20th of October 2015. The meeting was organised by the World Health Organization, the Wellcome Trust, the University of Oxford, and the Special Programme for Research and Training in Tropical Diseases (TDR). The meeting evaluated past performance in epidemic situations in light of the 2014-15 Ebola outbreak. The conclusions will help to inform future practices in similar challenging circumstances. The outcomes will feed into the development of the WHO R&D Blueprint for preparedness for epidemics.
The meeting brought researchers together from numerous countries working in diverse disciplines (see below for the list of organisations in attendance). The researchers came together to discuss the following:
1. Clinical research methods and map them against epidemics for future applicability
Outcome:
Epidemic infections present many difficulties for routine healthcare, when we want to conduct research in addition this can be extremely difficult. Preplanning the research methods are essential in order to generate evidence and learn from it for the future.
2. Identify future work that is needed to examine the suitability of clinical trial designs in different contexts and to different epidemic causing diseases
Outcome:
Different disciplines use diverse trial methodology, the methods used in oncology and vaccine trials were discussed widely together with the essential role that statistics performs in the evaluation of clinical trial designs as used during the 2014-15 Ebola epidemic. Future work will include assessing the man clinical trial designs available
3. A 'toolkit' containing guides which will be used to generate evidence in epidemics
Outcome:
Meeting participants discussed the values of an epidemic 'toolkit' which would assist in designing and running research in an epidemic
The attendees agreed that all research is essential and should be included in any preparation and response to epidemic infectious diseases, particularly those caused by dangerous or unusual infections. One of the main priorities is to get comprehensive descriptive and epidemiological data at the beginning of an epidemic, this information will inform the design of clinical research during the epidemic. Local and national research capacity building together with community engagement are high priorities together with building the local research networks to ensure the dissemination of information in a timely manner for response. It is essential that research is integrated into clinical care and public health responses during an epidemic.
A 'toolkit' approach (to include suggested protocol templates based on the different routes of infection) can be used to guide decisions about epidemic research, however researchers need to be adaptable and agile to be able to design the correct clinical study for the setting as each epidemic will have different factors involved.
What happens next?
The meeting report will be shared widely (please click here to download the report) and with the WHO Research and Development Blueprint for preparedness for epidemics and draft protocols will be prepared and disseminated to the researchers at the meeting with a view to having a 'toolkit' which can be used widely during epidemics of infectious diseases.
Organisations participating in the meeting:
University of Oxford, Wellcome Trust, World Health Organisation, Special Programme for Research and Training in Tropical Diseases (TDR), Imperial College London, University of Health and Allied Sciences, International Severe Acute Respiratory and Emerging Infection Consortium (ISARIC), Food and Drug Administration, Public Health England, Epicentre, MSF, University of Washington, University of Virginia School of Medicine, Centres for Disease Control and Prevention, National Institutes of Health, Incident Management System, Paul G. Allen Ebola Program, University of Florida, Norwegian Institute of Public Health, Mahidol University, European Medicines Agency, London School of Hygiene and Tropical Medicine, Lancaster University.